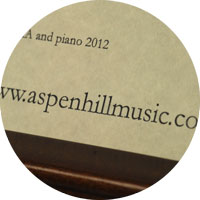 I've never purchased scores online. How does it work?
It's so simple you'll wonder why everyone isn't doing it this way!  Once you've completed the download process you'll have the two things you need to start your first rehearsal; the printed score, ready to be photocopied by you, and an invoice stating the number of copies you are permitted to make. When you buy a score online, you download a single copy and your license/invoice gives your ensemble the rights to reproduce only as many copies as you've paid for, and no more...that would be illegal. First, you'll locate the score or scores you are interested in from Aspen Hill Music's library. You must select the Digital Download option and enter the total number of "scores" you will need for your ensemble.  You will then be directed through our checkout process.  You will need to enter in basic customer information and complete your payment.  We use Paypal exclusivly for accepting payments.  If you do not already have a Paypal account, you will be prompted to create one at this point.  After your payment is received by Paypal you will automatically receive an email from us that has a link to the .pdf file of the score you have just purchased. That email will look very similar to this sample here.  When you click on that link at the bottom of the email your computer will either open a new browser window to display the file or put it directly into your system's downloads folder.  Please remember, your license only grants you permission to make the number of total copies for which you have paid.
Once I've downloaded the .pdf, how do I print?
Our scores are all formatted to make printing as simple as possible. We have made every attempt to format the score to use as few pages as possible, but in rare cases a blank page has been included in the finished score to accommodate the correct number of double sided pages. Your license requires that every page with text on it must be included in your printed copies and that you may not modify the score in anyway, however you may leave out blank pages if you desire. When it's time to print, you have several options, but your best bet for ease of use, durability and reuse over time is to print your scores on higher quality 11x17 paper, then fold and staple them at the center. You can do this using the booklet copy feature on a more advanced copy machine or take your download to a print shop. Certainly it works to print them out on 8.5x11 sized paper and hole punch them for a binder style music folder or even staple them.
What if I want you to ship me the printed scores?
Aspen Hill Music does offer you the option of ordering scores that have been printed by us and shipped directly to you, ready to use. You will find a button for this option next to each score on our store page. Please note that our printed scores are $2.25 per copy and there is an additional charge of $20 that covers shipping and handling. When you choose this option, Aspen Hill will receive your request for Printed Scores and contact you, usually within 48 hours.  We use a local printer and your scores will be printed on heavy weight 11X17 paper for durability and arrive folded and stapled.  They will be shipped via US Mail to the address you provide.  Please note that Aspen Hill Music only ships scores on Wednesdays and Fridays, and you must allow an additional 2-5 days for the postal service to bring our music to your doorstep.
Are the perusal scores really free?
Yes. The beauty of the digital music store is access and immediate availability. We want you to have what you need, when you need it. Just as you would have access to a piece of music if you were standing in a music store, joining in a reading session or pulling a score from a packet mailed to you by one of the traditional publishing houses, we think that means a copy of the whole score, not just excerpts, to determine if it is right for your performance needs. So please feel free to download our perusal scores and print them. We encourage you to share them with your colleagues and save them in your personal libraries for use at a later time. They are watermarked to discourage you from making additional copies and printing them does not give you permission to make more than your single preview copy. Doing so deprives the composer of rightful compensation and it's also illegal.
What is a "Limited License to Create Copies"?
A Limited License to Create Copies is included in your invoice from Aspen Hill Music. When you purchase digital scores, you receive a single copy for download and we, the publisher, give you the right to photocopy that score only as many times as you have paid for during your original purchase. Keep a copy of this invoice in your records. This license only covers the use by the purchasing organization and does not grant permission for loan or re-sale. It does not grant the right to reproduce the music in any electronic form or to modify the work in any way.
What if my license is for 40 copies but now my ensemble has 55 members? 
You will simply need to purchase an additional 15 digital copies. Creating additional copies without purchasing the additional license is a violation of copyright and deprives the composer from rightful compensation for the creation of this music.
Can we record music from Aspen Hill's library?
Yes. In order to do so you will need to purchase a mechanical license. Information about the titles you wish to record, and the timing for each piece, the title of the finished cd, the performing group and your initial distribution estimate will help us better manage the cost of that license. Please contact us directly for more information about recording our music.
How do I report a performance of an Aspen Hill Music score?
There is a form on the right side of our Home page that will take you to a reporting form.  We'd love to hear from you. Your submission of media constitutes permission for Aspen Hill Music to post performance clips, quotes, comments, or photographs. You will be notified directly of our use of your media.
Can I submit my composition to Aspen Hill Music?
Aspen Hill Music will be accepting submissions from composers soon. There are a few things you should consider when preparing your piece for submission. Aspen Hill Music requires that your piece has been rehearsed and performed by an ensemble at least once before it will be considered for publishing and every attempt should be made to send a recording of that performance with your submission. Additionally, if the text is not in the public domain, it is the responsibility of the composer to get permission from the author for its use. If your manuscript is accepted by our team, you will work with our engraver to format your piece for digital download and enter into a contractual relationship with Aspen Hill Music that gives us sole rights to compensate you and distribute the piece.